Just a few favorite deep dark berry rose shades in my collection
The first lip color I can remember obsessing over as a child (yes - I started young) was a deep dark vampy noir red. Not pink, not peach, not red. I even recall the excitement I felt when I realized for the first time that it was POSSIBLE to even wear a color that dark on the lips.
It looked gorgeous. I was in love.
As an adult, I've built quite a collection of deep dark lip shades over the years, but let's face it - for most of us, these gorgeous blood colored shades don't get a lot of air time because they are so dramatic. Until you learn how versatile they are of course.
L'oreal Infallible Lipstick in 337 Refined Ruby worn sheer
One of my favorite things to do on days when I don't want to spend too much time on my makeup is to take one of these vampy reds and wear it as a translucent matte wash over the lips, over a neutral lip pencil. The final effect is polished but not harsh, relaxed but still dressy.
Steps:
Apply nude/neutral pencil around the edges of lips and blend in a bit so it's not a visible line
Swipe your deep dark lipstick in the center of the lower lip only (this is usually the perfect amount to achieve this effect)
Press your lips together a few times to transfer and spread the color onto the rest of your mouth
Use a brush or your finger to tap and spread the color out to the edges of your lips
The edge of the mouth is not meant to be harsh and precise so I prefer fingers over brushes. Also, this is a great way to make your dark lipsticks go further, both in terms of being able to use them for more occasions, and also from the perspective that you really need very little product each time.
Choosing a red:
Not every dark red works the same way though. The trick is to look for the ones that sheer out to a cool berry-ish rosy red. There are some that sheer out into a brown or purple tone that can look dull and dirty against the face.
For an example, below are a few good options that are currently in my rotation, although I will also mention a few other old faves.
Maybelline Plum Perfection
- this lightweight matte lipstick is in the Powder Mattes range. It's a red with plum brown undertones. It actually goes on semi-sheer, so it's actually easier to wear this like a stain and not have to build it up to opacity.
L'Oreal Infallible in 337 Refined Ruby
- here in Singapore, there are at least 3 shades in the Infallible range which look very similar. Deep burgundy reds. But Refined Ruby has the best balance of red berry and brown among those.
Cle de Peau Lipstick in 12 Pillow Book
- the ultimate luxurious gorgeous noir red, this is a
beautiful
creme texture that works well on dry lips, but not everyone can tolerate the S$92 price tag per tube. If you can tho....
LAQA & Co Avolip Butter in Ninza
- despite the name this is not the most buttery formula around. But the color is so gorgeous, the price is so good (it's $22 on Sephora.sg but currently on sale for $15 as of 15 Aug), and the shade is so great that I'll deal with the semi-matte feel. A slightly more berry-leaning alternative to the Cle de Peau.
NARS Velvet Lip Glide in Deviant (limited) and Unspeakable
- I love the Velvet Lip Glides because they sheer out beautifully without going uneven, and feel so comfortable. Deviant is the perfect blood rose shade but NARS sadly only released it as a limited edition color. The next closest is Unspeakable which is a bit more berry/purple toned.
MAC Rebel
- this cult classic looks noir in the tube (it's to the far right in my top image) but goes on a rosy berry. It goes on sheer and has to be built up to go super-dramatic, so it's good for those who are not confident of their blending/sheering skills.
Charlotte Tilbury K.I.S.S.I.N.G. in Night Crimson
- like MAC Rebel, except it goes on at max intense. This also leans more on the berry/cool side, like Rebel and Ninza.
Julie Hewitt lipstick in Sin Noir
- this lipstick goes on dry and opaque so it needs a bit more work to sheer out. But it's the most amazing deep plummy blood shade with a slight veil of wine shimmer that's not really visible except when you look at it in the tube. I prefer this shade worn full-on though, but it can work sheer as well.
Marc Beauty Le Marc lipstick in 210 Blow
- can't say enough about this shade. It's kick-@$$. This is like NARS Deviant's vampire-slaying twin. Identical tone but matte, opaque, and dense. If you are dying to try a shade like Deviant and don't mind the work sheering this out a bit or layering this with balm/gloss, go for Blow.
Kevyn Aucoin Bloodroses
- I love this so much I have it in all its incarnations. Liner, matte, creme, gloss. This has less berry in it, and leans more towards true blackened red. To be honest I would skip the gloss because it's a sheer browny-red, not that much like the lipsticks and liner. But this
the
quintessential blood rose shade for me.
Burberry Oxblood
- my favorite shade from Burberry, bar none. I own this shade in
every
formula they have except the Lip Velvet (only because Sephora can't keep it in stock). This shade has a bit less red and leans a little on the plum-brown side compared to some of the others mentioned here though, so I personally feel it has a tendency to work better on lighter skin tones. On fair skins it is a nice "deep but muted" look. If you have rich bronze/caramel skin it might look a bit more dull and even a bit grey/brown toned.
For beginners or the faint of heart:
You might find the idea of blending/sheering a bit of a hassle. Or your lips are extremely dry and need some TLC. You don't even mind the thought of having to reapply a bit more often throughout the day.
If so, then go with the balmy shades like those below:
Clinique Chubby Stick Intense in Red Violet
- This is my number one pick among the sheerer options currently. It's got the perfect amount of red and violet. Duh.
Maybelline Ombre Lipstick in RD03
- I never wear this ombre-style. I usually mix all three shades together for a soft rosy stain because the extreme contrast between light and dark for ombre lip pairings is not that flattering in real life, and frankly the photo-shopped ad campaign looks darned scary. But blended together, this is a great shade for that rosy stained lip.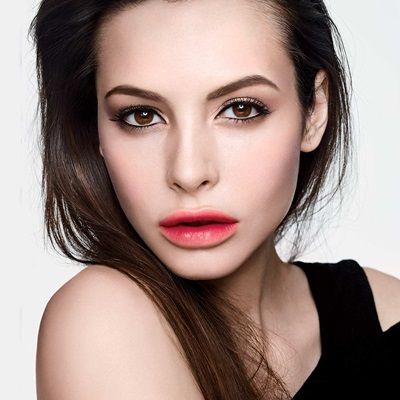 The ombre lip ad that I just don't get!
LANEIGE Two Tone Lip Tint Bar in No 8 - more of a brown-red undertone (more raisin than rose) but this is the nicest feeling of the three options here in my opinion. Again, I don't like extreme ombres (very dark paired with pale or transparent) but blended together, this gives a gorgeous sheer wine tint overall. And these Tint Bars are actually very pigmented in general.