Metallic azure blue centered on matte brown smoky eyes.
We've all seen the Jason Wu F/W 2011 runway makeup, with the dark navy smoky eyes and bright metallic gold in the center of the lids.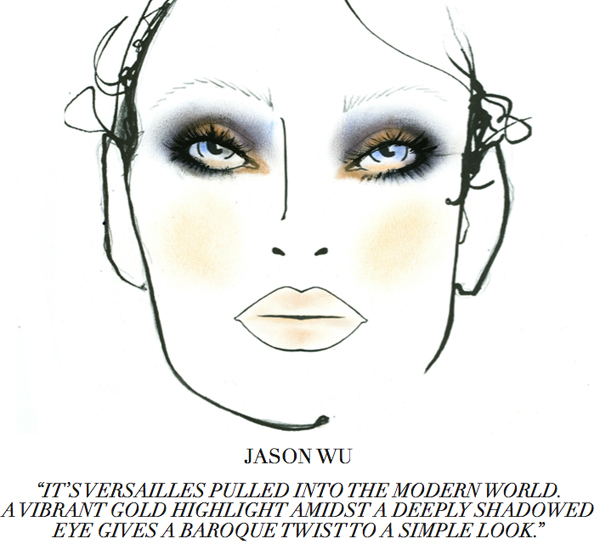 I wasn't so much interested in re-creating the look as re-interpreting it with a different color scheme and softer, more wearable finish for real life.
Step 1: Pack a matte cocoa brown to the outer and inner thirds of the lids, over a good eyeshadow base. You want the color to be intense, as this is your guide-line for the contrasting blue in the center of the lids. Don't bother smoking it out at this point.
Step 2: Pack a metallic azure blue to the center of the lids. For more drama, foil the shadow with mixing medium like MAC Fix+ before applying to achieve a more metallic finish. If you want to soften the look, just apply it dry.
Azure blue from the 88 Shimmer Palette; good alternatives if you don't have a similar shade include MAC Mutiny pigment or Barry M Kingfisher Dazzledust. Just don't get anything that is too green-toned if you want maximum contrast with the brown.
Step 3: With a softer, warmer brown, blend along the socket line and upwards toward the brown bone. Again you can go all the way to the brows for drama but I did not.
Step 4: Finish with dark brown liner along the water lines, and black mascara on top and bottom lashes. I opted not to apply false lashes, just so I wouldn't obscure the lid colors.